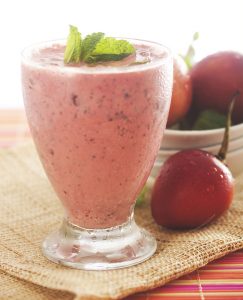 Tamarillo Smoothie
Ingredients:
Tamarillo flesh of 2-3 ripe
Frozen raspberries 1 cup
Runny natural Yoghurt 1 ¼ cup
Runny honey 2-3 teaspoons
Vanilla extract ½ teaspoon
Blend all ingredients.
Yellow pitahaya juice
Ingredients:
3 dragon fruits
1000 ml water
4 tablespoons of sugar
Peel the dragon fruits
Blend all the ingredients. Add ice if necessary.
Perfect for snaking. No Added sugar. If you eat 1,5 oz. of the dried Pitahaya fruit, you will be eating almost a full pound of fresh fruit. Dietary fiber, vitamin C and micro nutrients are still there in the dried pitahaya fruit. Packaging: Polypropylene bags inside of corrugated Carboard box. Each pack is easily identified by the lot number, production and expire date.